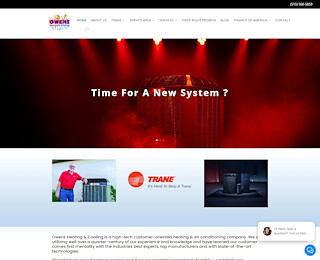 Ductless heaters in Jefferson can save you roughly 40 percent on energy costs. This is significant, particularly during the exceptionally cold season. Conventional air duct systems often cost hundreds of dollars due to lost energy efficiency. In fact, it's estimated that these traditional systems lose an average of 40 percent energy. What this means is that air from the ducts doesn't get to the specific rooms you want.
If you're looking to install a ductless heater or you already have one and need the finest Jefferson heat pump repair, we've got you covered. At Owen's Heating & Cooling, we offer top-of-the-line installation, repair, and maintenance services of these systems. With us, you're assured your equipment will always run at full efficiency, delivering exceptional heating throughout the cold months.
Reasons We're the Best Ductless Heater Service Company in Jefferson IA
By choosing our Jefferson IA heating services for your home comfort needs, you're selecting the best in the industry. Our extensively trained contractors have the expertise, equipment, and tools to keep your system performing optimally all year long. Here's a closer look at why we're the go-to HVAC contractors in Jefferson.
At Owen's Heating and Cooling, we're committed to offering you superior quality services. We're earned a solid reputation as premier contractors who offer the finest HVAC services, including heating and cooling repair in Jefferson, something we're highly proud of. Further, we're experts in ductless units, and as such, we'll help you tailor a ductless solution that best matches your needs.
We want what our clients want. That's how passionate we are about our job. When it comes to ductless heater installation or repair, you want maximum performance for your unit. At the same time, you want a system that offers more comfort and wastes less energy. That's why we never use a standard approach to deliver our services. Instead, we conduct a complete evaluation of your needs, including your insulation levels, cooling load, among other factors, so that we can correctly make sure you have a heating unit that suits your home best.
The products we stand behind are unbeaten in the industry and are known for their stellar performance. Once we install, maintain, or perform ductless heater repair, you can be certain your system will be energy-efficient and work optimally. When top-rated ductless systems are combined with our expertise, you can be sure every machinery will be installed to last, and all our services will be executed with unexcelled precision and skill. To us, our top priority is your comfort whether you're at home or in the office.
As trusted HVAC contractors, we're dedicated to offering second to none customer service and ensuring 100 percent customer satisfaction before we consider any job done. Thus, not only do we service most models, but we also provide upfront pricing on all our services. In other words, we won't start any work without you knowing the exact amount the service will cost.
Unsurpassed Ductless System Services
Ductless heaters in Jefferson provide considerable savings on energy consumption while delivering incredible comfort and convenience. Whether you want a new heating unit or would like to have yours maintained or even repaired, you'll need a team in your corner you can rely on to do everything perfectly the first time. At Owen's Heating & Cooling, we're top HVAC contractors in Jefferson who're professional, reliable and extensively experienced with ductless units. Contact us for service by phone or online any time: https://owensheatingcooling.com/contact/.
Ductless Heaters Jefferson
Owens Heating & Cooling
+1 515-500-5859
200 West McKinley Street
Jefferson
IA
50129
View Larger Map
We welcome your comments!
We're not blowing hot air… our work is guaranteed to satisfy!