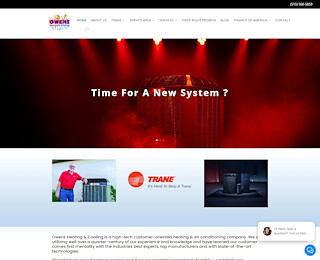 Anyone dreads coming home to an air conditioner that isn't working in the middle of a sweltering summer. Suffice to say, it would be unbearable to stay in a hot house. If your AC has suddenly malfunctioned, we understand how essential it is to have it up and running in the shortest time possible. That's why at Owen's Heating & Cooling, we're committed to providing clients with the highest quality central air repair in Jefferson, IA. Our certified contractors will quickly repair your equipment to restore comfort in your home.
Reasons to Choose Us for Central Air Repair and Maintenance
There are many benefits of employing our services for maintenance and air conditioning repair in Jefferson, IA:
Extend the Lifespan of Your AC
Our routine maintenance services will keep your central air unit running smoothly for many years. Early warning signs of issues that require repair might not always be spotted. Left unchecked, AC problems can affect the efficiency of your system. Other issues can end the lifespan of your AC prematurely, which is quite costly to replace.
In addition to routine tune-ups, our maintenance checks will also catch any problems early. This will allow our heating and air conditioning contractors in Jefferson, Iowa, to fix issues immediately before they become extensive or cause the complete breakdown on your AC.
Instead of hiring an inexperienced handyman or attempting to repair your AC on your own, it's best to enlist our professional air conditioning service repair in Jefferson. That way, you won't be exposed to the risk of an electrical fire, permanent system damage, or electrocution. Our contractors have been trained to accurately diagnose HVAC problems and perform reliable repairs that won't endanger you.
Greater Return on Investment
If your AC has malfunctioned, you don't just want temporary repairs; you need a lasting solution. DIY repair attempts are often not reliable. They only delay the unavoidable or worsen the issue. Eventually, you'll be forced to perform repairs again. When you contact us as soon as your AC develops a problem, we'll accurately diagnose the issue and provide prompt and long-term repair services.
Energy costs over summer, regular repairs, and unexpected breakdowns will be minimal thanks to our expert maintenance services. Once your equipment is professionally tuned frequently, you'll have an AC that functions optimally all through the hot months.
Leaving your central air repair and maintenance needs to us is more convenient compared to taking the DIY route. As soon as you call our HVAC repair company in Jefferson, all you need to do is sit back, and we'll get the job done perfectly.
Trusted Central Air Repair and Maintenance Services
When you choose to use our services for central air repair in Jefferson, IA, you're guaranteed 100 percent satisfaction as we're one of the top-rated professionals in the field. All our professional technicians undergo extensive training and stay updated on the best HVAC techniques and technologies by continuing their education. This enables us to deliver second to none central air conditioning service in Jefferson. Owen's offers financing. Apply today: https://www.mysynchrony.com/mmc/S6216659100. Contact us for service by phone or online any time: https://owensheatingcooling.com/contact/.
Central Air Repair Jefferson IA
Owens Heating & Cooling
+1 515-500-5859
200 West McKinley Street
Jefferson
IA
50129
View Larger Map
We welcome your comments!
We're not blowing hot air… our work is guaranteed to satisfy!